The cooperation between the German State of North Rhine-Westphalia (NRW) and Ghana has grown significantly cordial. Through this cooperation, The Brew-Hammond Energy Centre, KNUST is being supported for it to become a Centre of competence for climate and resource protection and to provide state-of-the-art studies, advisory services to public and private bodies, as well as demonstrate environmental technologies. Visible projects from this support are the Smart Energy Management Systems, Solar Lab and the Solar Training Centre, the Biogas and Biomass Laboratories.
In March this year, a high Profile delegation visited the Centre. The delegation was led by a former State Minister of the German State of North-Rhine Westphalia Mrs Bärbel Höhn and the Programme Manager for Renewable Energy / Energising Development at GIZ Ghana, Mr. Steffen Behrle. Mrs Höhn who was a minister for environment, agriculture and consumer rights and also a former member of the German Bundestag (2005-2017) is now the Special Representative for Energy in Africa of the German Federal Ministry for Economic Cooperation and Development (BMZ). were warmly received by the acting Provost; Prof K. O. Boateng and the acting director of The Brew-Hammond Energy Centre; Dr. Gabriel Takyi.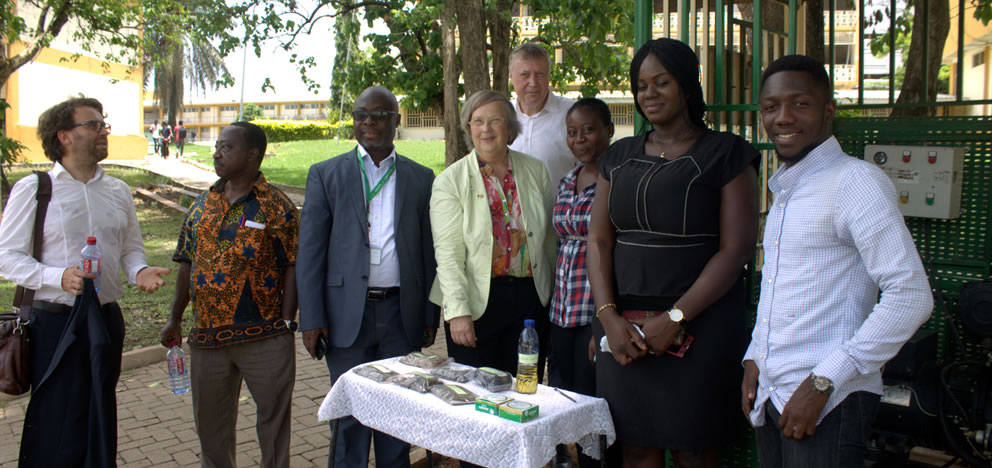 Upon their arrival, a breakfast meeting was held where discussions as to how the collaboration between the Centre and the NRW State can contribute to Ghana's commitment towards renewable energy as ascribed in the 2018 policy document on Energy. The policy goal seeks to increase the contribution of renewable energy in the overall energy mix. Moreover, the policy document seeks to ensure efficient production and utilization of biomass energy resource with a peripheral view of reducing the causes and effects of climate change. This is in synchrony with the objective of the collaboration between the two parties.
After the breakfast meeting, the delegation was given a tour of the various demonstration installations on campus that were funded by the German state of NRW through GIZ.
The delegation was generally satisfied by the fact that the project equipment were properly maintained and serving the purpose for which they were installed.