The Brew-Hammond Energy Centre in collaboration with the state of North Rhine-Westphalia (NRW), Germany has set up a competition dubbed The Green Entrepreneurship Awards. The theme for the awards was "Turning environmental challenges into business opportunity". The Award is a partnership project involving KNUST, Bonn-Rhein-Sieg University of Applied Sciences (BRSU) in Germany and the University of Cape Coast (UCC) with sponsorship from the German North Rhine Westphalia State and GIZ.  This competition, which commenced in March 2017, was aimed at promoting sustainable enterprise development among students and young graduates in order to motivate them to come up with brilliant ideas to solve environmental problems and create jobs for themselves and other people.
At the start of the programme, about 85 teams were enlisted with each team comprising not more than 5 members. After initial vetting, five teams were shortlisted to proceed to the next stage of the competition where teams were expected to conduct feasibility studies and develop prototypes of their business ideas.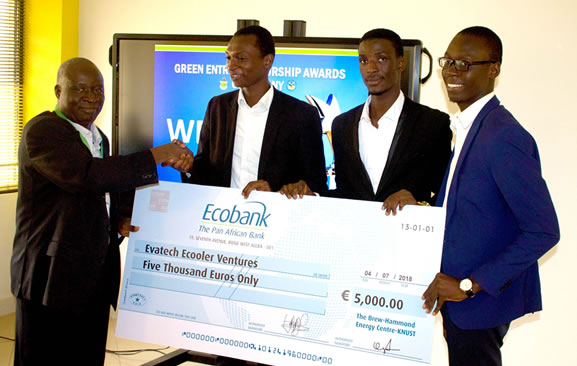 After a strict judging process, two winners were selected and each awarded a grant of 5000 euros as seed funding to help them develop their business plan. In addition to the financial support, the teams would also receive technical and management support from the KNUST Centre for Business Development, the Brew-Hammond Energy Centre and other units within the University. The package also includes assistance from industry experts and practitioners to assist the young entrepreneurs. An award ceremony at the College of Engineering of KNUST was organised on 5th July 2018.
The first award went to EvaTECH Ecooler Company Limited which is in the business of making fruits and vegetable storage easier and less expensive for farmers and retailers in order to reduce post-harvest losses.
The second award went to Nonafate Company Limited who are developing modern technologies to produce efficient and environmentally friendly irrigation pumps to promote commercial agriculture in Ghana.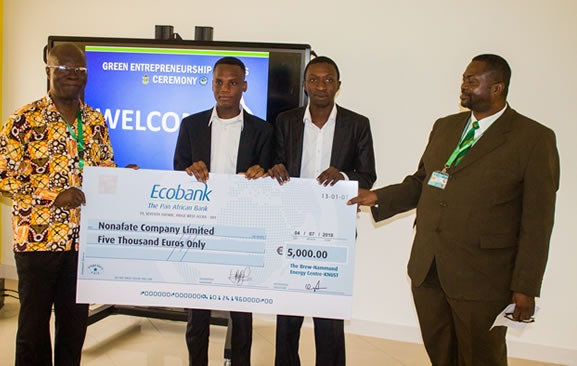 Dignitaries present included Professor Imoro Braimah (Provost, CoHSS-KNUST) who was the chairman of the award ceremony and a representative for the Vice Chancellor of the University, the Provost of the College of Engineering, Professor Mark Adom-Asamoah, The Director of the Brew-Hammond Energy Centre, Dr. Emmanuel W. Ramde, Representatives from the University of Cape Coast, Fellows of the Brew-Hammond Energy Centre, Technical Advisors on the project, Professors, Deans, Directors, Heads of Departments and other personalities from KNUST.
The technical advisors on the project are Mr Samuel Akomea, Ing. Joseph Oppong Akowuah, Dr. Ahmed Agyapong, Mr. Kweku Appiah-Badu, Dr. Samuel Dodoo and Mr. Phanuel Wunu (UCC). The coordinator of the project is the Director of the Brew-Hammond Energy Centre, Dr. Emmanuel W. Ramde assisted by Ms. Ophelia Dede Narh.