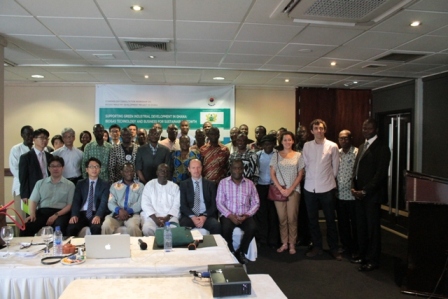 United Nations Industrial Development Organization (UNIDO) has implemented a 3-year biogas industry development project in Ghana titled "Supporting green industrial development in Ghana: Biogas technology and business for sustainable growth". This project was supported by the Ministry of Trade, Industry and Energy (MOTIE) of Korea, and has been implemented in coordination with the Ministry of Trade and Industry (MoTI) of Ghana and The Energy Center, Kwame Nkrumah University of Science and Technology (KNUST).
The project sought to increase access to sustainable energy for productive uses in Ghana, and contributed to inclusive and sustainable industrial development. To this end, the project would promote industrial-scale biogas technologies for electricity and thermal applications, and build capacity of companies for optimal exploitation of biogas opportunities
The overarching objectives of the project will be achieved through
Demonstration of technical feasibility and commercial viability of industrial-scale biogas technology, and support for its market-based replication

Industry-focused research on appropriate biogas technologies and resource potential at a national level

Increased awareness of biogas technology among the general public and policy makers for influence on biogas business culture.
These interventions, seen together, would address existing barriers to market-based dissemination of industrial-scale biogas technologies in Ghana.